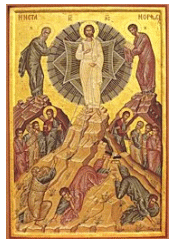 Upward Call Ministries International was brought into existence by the Holy Spirit.
Its mission is to be:
Providing individuals, congregations, and other Christian organizations with resources, training, and life-to-life ministry opportunities that are reflective of and consistent with the historical faith and practice of the One, Holy Catholic, and Apostolic Church of Jesus Christ; so disciples may grow "to maturity, to the measure of the stature of the fullness of Christ."
Upward Call seeks to facilitate a practical connection and application of the faith and practice of the Church "once for all" delivered and administered by the Holy Spirit in the life of the disciple in accordance with the Biblical counsel found in Jeremiah 6.16, "Thus says the LORD: 'Stand by the roads, and look, and ask for the ancient paths, where the good way is; and walk in it, and find rest for your souls.' and Matthew 13.52, "Therefore every scribe who has been trained for the kingdom of heaven is like a householder who brings out of his treasure what is new and what is old."
Those who desire to deepen their life in Christ as disciples will, therefore, be equipped to grow "to maturity, to the measure of the stature of the fullness of Christ." (Philippians 3.12-17, Ephesians 4.11-16, and Colossians 2.6-7)
UCMI is committed to an understanding of Christian discipleship as the invitation to embark on and persevere in the joyful struggle of salvation in agreement with the Father's grace in Christ Jesus by the power of the Holy Spirit: "The journey of transformation in union with Christ through identification with Him in His death and resurrection."
The specific resources UCMI provides to accomplish this end are:
Availability to lead retreats for individuals and groups
Assistance to individuals and groups in planning retreats
Spiritual direction/mentoring
Preaching and teaching availability
Pilgrimages worldwide
Consultancy

Congregational vision
Leadership teams
Pre & post baptismal instruction/preparation/spiritual transformation

Institute of Transformation in Christ
Upward Call Ministries International
The Rev'd. Thomas P. Brindley
704 Sutro Avenue
Novato, CA 94947
Phone and Fax: 415.897-5039
Email Father Thomas